Halongjunkcruise.com is a dedicated site of Indochina Voyages and exclusively for Halong Bay cruisers. We offer this exclusive website as we have experienced many questions from previous customers who were concerned about types of cruises, price deals, and comfort level when trying to find the ideal cruise that meets all their interests. Motivated by the ambition to be the leading one-stop-shop for Halong Bay cruises, our minds seriously focused and a carefully designed market study was performed in light of the fact that such concerns have been frequently addressed in many a world wide famous travel forums such as Frommers, ThornTree, Fodors and TripAdvisor
Being legitimate Halong local guys and growing up in its tourism industry, we have enjoyed the pleasure of getting to know all the junk boats history, having sailed with hundreds of captains in countless cruise trips with our tour groups or private packages. Being either a close friend or a faithful partner to these cruise companies owners in Halong, we have all the advantages to beat the regular track to offer the best price of cruise deals and thus make us unrivalled in this exclusive field, providing junk cruises to world travelers.
We respect our four valued pillars, which are strategic keys to the success of our Halongjunkcruise.com operation and to open your hearts when making a decision to sign up your cruise with us.
Good price: Determined to be the one-stop-shop cruise provider that you can not turn down, it's our priority to offer you the best price possible per service, ensuring that, in the long run, we can look forwards to increase sales volume

Attentiveness: Since you are our valued customers and, as holidaymakers, we want to take the best care of you during your comfortable stay. Not only are you potential for a repeat visit but we understand that good word of mouth will only happen if we have done an excellent job.

Professionalism: No hidden costs, no over advertising. What you see in our offer is what you are going to get; our experienced sales team will get back to you in under 24 hours with straigh-to-the-points answers and will far exceed your expectations.

Easy & safety: Once you trust us to be your service provider, we offer you flexible ways of payment that suit you best. In case of payment through a credit card online method, we guarantee to handle the transaction with the highest level of safety to protect your personal information.
Sincerely yours,
The Halong Junk Cruise Team
Page 1
Dear Mr Lee,
I am writing to you on a matter I should have contacted you sooner on. My wife and I are organizing our second trip to Vietnam and are using your company again to help us with this. I wanted to let you know how happy we have been with Linh's help both on this occasion and in particular for our visit last October. She is very efficient and knowledgeable and we would always recommend her to colleagues if they want to do a similar trip.
Also we thought your drivers are very kind people who did not take advantage of us. Ancsa can't stop talking about them.
Kind Regards,
Paul and Ancsa.

Paul Woods – Visited 04/2017

We wanted to travel from Saigon to Phnom Phen via the Mekong Delta, but without too much driving. I worked for hours on the net but when I found Thao Vu it all fell into place!! I knew what we wanted and Thao just explained how we could do it. We ended up driving just two hours to Ben Tre. There we joined our private Sampan (not a lot more than the big boats). What a trip. Three days two nights. We did everything!! Cycled miles, never saw another tourist- not one!!! Because the boat is small it takes a completely unique route. We had it for two but it takes four. All the way to Chau Doc. There a driver took us on to the border and saw us through. Another driver wafted us to the door of our Phnom Phen hotel. Clockwork!! All arranged perfectly by Ms Thao. If you want to see the Mekong in comfort and style book Bourganvillia or a similar historic Sampan. Crew of five. Lovely bedroom and lounges. And you really see the Mekong.
Many thanks Thao!!!
Great organisation always going the extra mile.

Brian John Spencer Henslow & Sara Louise Henslow – visited 03/2017

We just returned from a 14 day, once in a lifetime trip, to Vietnam and Cambodia. This was made possible by Nam Ngo, Sr. Travel Consultant for Indochina Voyages. He created a trip that included everything we could have asked for and more. I worked with him, via email, to ensure all of details were covered. He was extremely responsive and had very creative ideas that spurred on further exploration of both countries. We did so many things that I would have never thought possible. For example, a bike ride through the countryside of Hoi An, a ride in a basket boat on the Song Thu river, we met a local person at his house and shared a coconut. We cruised the Mekong Delta on a sampan and had a candlelight dinner at an ancient house. We shared tea with the owner of this house and left with feelings of great gratitude for her congeniality and graciousness. All of our hotels were different but always 5 Star and luxurious, we stayed at the Four Seasons in Hoi An and then more historic hotels in Siem Reap (The Raffles Hotel) and Siagon (The Rex Hotel). This added so much color to our trip and opportunities to learn. Our tour guides were unbelievable. Not only were they local, well versed, educated but very affable. They shared stories about their countries and their own personal lives. Every time we parted with one of our tour guides we parted with tears in our eyes and big hugs as they changed our lives forever. This was an adventure that will stay with me for the rest of my life and I owe this to Mr. Nam Ngo with Indochina Voyages.

Melissa Ann Glauch – visited 18/02 – 03/03/2017

We just returned from a wonderful 12 day trip to Vietnam and Cambodia. We would like to thank all the Indochina team, especially our travel consultant Mr Minh Vu! Minh tailored a perfect trip for us according our desires. He was very helpful and polite, he supported us in every minute of our visit. Everything went very smoothly. We had great time in Vietnam/Cambodia and it was a unforgettable vacation for us!! We are looking forward for visiting Indochina area again. We are happy to recommend Indochina Voyages to our friends who venture to Vietnam in the future.

Hacer Durmus Tekce & Ertuprul Tekce – visited 02/2017

Just returned from a 3 week trip to Vietnam and Cambodia using Indochina Voyage's agent Huyen.
Huyen is a most outstanding agent and answered all my questions over a 6 month period! She designed a custom tour for us based on our interests. Our adventure included many highlights from northern Vietnam to the south as well as 3 days in Cambodia.
I can't say enough about Huyen's amazing concern and support for us in every aspect of our trip. We could enjoy the tour without any stress. She made sure every detail was taken care of!!! We had wonderful guides and drivers.
I would definitely us IV again!!!
Debbi Moses
Toronto,Ontario

Mrs. Debbi Moses – visited 31/01 – 19/02/2017

We wanted to visit Vietnam during TET in Hanoi and decided to leave the planning and logistics to the excellent staff at Indochina VoyagesTravel. What a GREAT TRIP! They covered all of the details for us – planes, trains, and automobiles – as well as guides in Vietnam and Laos. We spent pre-TET and TET in Hanoi and it was a thrilling experience not to be missed. The hotel selections were top-notch, all located within the Old Town Hanoi, while the one in Luang Prabang was in a more secluded, yet easily-reached area. Indochina Voyages also provided a new comfortable Toyota SUV vehicle and driver for trips to Halong, Ninh Binh, Can Cao market, SaPa, and to airports, train station, hotels.
I highly recommend Indochina Voyages Travel to anyone going to southeast Asia. They custom-design trips for each travelling person or group so the amount of physical activity, routing, personal interests (culture, art, history, food) can be adjusted to YOUR preferences. Communications from IVT, (in excellent English), made it so easy to work with them, we felt they provided very good value for our 17-day trip. In our opinion Mr. Tim Lee has assembled a very competent and friendly team at IVT – we were satisfied of every aspect of our trip thanks to them.

Gene Walters & Elsa Watlers – visited 23/01- 09/02/2017
Page 2
The 2 day 1 night ha long bay cruise on the Red Dragon was marvelous.
Great food, drinks, and the scenery was spectacular. Tuan, the first mate, along with the rest of the crew were excellent. Spent the night on the water in a small secluded cove where we were able to swim and relax before dinner

Jaminnlexky – Visited 09/2016

I contacted Indochina Voyages several months before our trip to Vietnam. Dealing wiht them was an absolute delight. Courteous, professional and always getting back to you quickly. In Vietnam they did not disappoint. I used their services on several occasions..for trips to Sapa, Ninh Binh and Halong Bay. I have nothing but the highest praise for them. They arranged transfers for us and the dirvers were courteous and pounctual. In particular our designated representative Mr. Long was always looking out for us and available with any questions and problems we might have.When my daughter fell sick with a mild virus, he was of great help and comfort, being in constant touch with me and the hotel. Hewent out of his way to help us make our family vacation unforgettable (we were travelling with our 2 kids aged 10 and 14). I would definitely use them again.

Julian Levy – Visited 08/2016

Me and my wife decide to have a great family vacation. But with 3 children was not easy to plan. So grateful that we use Indochina voyage. They took care of my family and every time we have some trouble, they immediatly helped us and solve it. Thank you Indochina Voyage for our amazing family vacation

Bruce W – Visited 07/2016

We found Indochina Tours on line, and couldn't have been happier. We only had time for nine days and eight nights in Vietnam and it made sense to use a tour company. We opted for the 'Tonkin Elegance Tour', which gave us four nights in Hanoi, one in Sapa and one on the 24-hour cruise at Halong Bay, plus two nights on an overnight train, which was an enjoyable adventure. Our contact, Ms Huyen Nguyen, was excellent. She answered all our questions very quickly, in a very friendly manner, and in faultless English. She offered us a choice of a three-star tour at $710 per person and 4-star at $875. We chose the latter, and this gave us two nights in Hanoi at each end of the trip in the superb La Siesta hotel in heart of the old district. A small supplement also got us onto the excellent (and apparently best) cruise ship on Halong Bay, the Dragon Legend.

The tour was well thought-out and superbly managed. Guides and drivers showed up exactly as scheduled. We had a private car or minibus for all transfers, and a guide to ourselves, which meant we could have interesting and detailed conversations with them. The two overnight train trips from Hanoi to Lao Cai (the train station nearest to Sapa) were rattly but clean, and we enjoyed them. On our last full day we added an optional trip to Ninh Binh province, which made an interesting contrast to eh Vietnames highlands. Our Indochina Voyages contact, Huyen, was very clear about charges and conditions, what was included and what would be extra, and we were extremely happy with the service we received. If we are lucky enough to be able to visit Vietnam again, we won't hesitate to contact the company.

Ana M Bennett – Visited 06/2016
Page 3
Hi Huyen,
I just wanted to thank you for the wonderful cruise on the Dragon Legend with my family. It surpassed all expectations and your organisation and attention to detail was amazing.
How can we review your brilliant service on trip advisor?
We have already recommended your company to friends and will never forget the fabulous experience.
Kind Regards
Rachel Down

Rachel Down – Visited 01/04 – 03/04/2016

Dear Anh
Dolly and I just returned home ( Seattle, Washington ) 2 days ago.
Although we still have the jet lag problems, we have exchanged many communication via email among our group. It seems everyone of us loves the trip in Halong Bay the most. Certainly, the experience on the Bhaya Cruise is the highlight of our entire trip.
Dolly already referred your name and the Indochina Voyagers information to two parties.
We highly recommend them to consider your superb professional services.
Attached please find few pictures which I took during our visit in Vietnam.
Good luck and thanks again,
John

Dear Anh,
I echo John, I think everyone loved the classical Bhaya ship and the beautiful scenery of Halong Bay. It was a wonderful experience.
I especially appreciate your personal attention to our issues and your effort to
make up the mistakes. I also appreciate your personal visit which shows you really care our group. Many thanks for your arrangement for our tour. I will give reviews on TripAdvisor when I get back to the States.
Forceman

Dear Anh,
You are A super-star from the beginning to the end. Your diligence and great communication skill made our planning very smooth. Through our long processing, we had build our trust on you and your company. You also showed us your good care along our entire trip. Halong Bay certainly is the top highlight of this trip. The magnificent nature beauty and the breath-taking scenery will be treasured by all of us forever. Thank you for making wonderful arrangement for us.
When I describe my SE Asia trip to friends after my return. Always ended with "Do you like to have information of this great tour company?" As I always love to share good things and information with friends. Will try to write my first review on TripAdvisor next week.
It's been a great pleasure to work with you and travel with you at Halong Bay. Best wish to you and your company's success.
Sincerely,
Dolly Chen

From Dolly Chen & Forceman Yen – Visited 02/2016

Dear Nam,
Finally we are back home ! I just would like to say THANKS AGAIN.
Our trip was wonderful , your service is outstanding. Please, extend my recognition to all your team both, guides and drivers. Very profissional and competent people, all of them were fantastic , mainly Tom ( Ho Chi Minh City ) and Toni (Thailand). If you need something from this side of the world, just let us know.
Best Regards,

Mario, Betty , Patty and Paula – Visited 01/2016

Dear Tham
We are well and enjoying good weather at home – 24 degrees today.
We thought our trip was great – our guides and drivers were really good and easy to get on with. Our accommodation was really good and the breakfast meals at the accommodation were great. The lunch and evening meals your company provided were diverse and really tasty. We especially liked KOTO in Hanoi.
We thought the itinerary was well balanced – it was good to have the tours then some time to ourselves.
We found the train trip to Sapa challenging – maybe we are a bit old ???
Then followed by waiting for check ins at Sapa hotel after the really early arrival in Sapa seemed like we wasted some time. We wondered whether we should have looked at going there by bus instead.
We really appreciated your regular calls.
We had a hiccup with the flight time from Danang to Saigon but we worked through that – thank you for the free massage.
We would recommend your company to others and would certainly use your company if we return to Indochina.
Many thanks to you and your wonderful guides.

Rod and Debbie Dunlop – Visited 18/12/2015 – 11/01/2016

Hi Hoang,
Thanks again for all your help on time on this trip. You really helped to make it an unbelievable experience and we're both very thankful! We would recommend your service to anybody looking to travel to this part of the world and we look forward to talking again as we'll no doubt be back.
From start to finish things went incredibly well and we were very pleased with every place we stayed and all the guides and drivers we came into contact with. All the guides had great knowledge and a lot to share which helped our experience.
Our Guide Gigi Took us across the river in Yagon on the ferry where we then took a rickshaw around the villages there. It was a great experience and very eye opening to see. I highly recommend adding that to the tour in Yagon. There is also a massive park at the back of the hotel we stayed at which was also a nice addition to our time in that city.
We were blown away with Inle Lake and very much worth the time it took to get there. Great accommodations and guide there as well. We wish we had one more day there.
I loved the river cruise down the delta in Vietnam and crossing into Cambodia on the water was a very cool experience. Everybody was great on both boats.
This trip would not have been the same without you and we'll be forever grateful for your help. We made great memories and soaked up as much as we could.
Thank you so much,
Randy Nasatir

Randy Nasatir – Visited 13/12/2015 – 30/12/2015
Page 4
Dear Quyen,
I'm really sorry to come back to you so late but with the travel I wanted to take time to write to you.
Vietnam is an amazing place and surely I will come back.
The trip to Halong Bay was magic. The guide was fantastic as the organization and the food. Everything was perfect and we were so happy.
Many many thanks for everything and we will stay in touch. I wait for you in my country and for sure I come back to Vietnam…this time I want to do Hue and Phu Quoc.
Bests,
Quyen

Elvira Di Martino – Visited 28/03/2015

Dear Hoang,
Many thanks for your lovely gift and we wish you and your family all the best in life in the future.
We are back in our everyday life now and have some wonderful memories of Vietnam with many thanks to you and your excellent team.
Certainly, we will recommend your company after such a lovely trip.
All the best for your future and many thanks again for such an unexpected and lovely gift.
Warm regards
Penelope & Andrew

Penelope Brown – Visited 20/04/2015

Dear Tham
Thank you for your email.
The Trip
I would like to thank you so much for organising a totally enjoyable trip. We were very happy with the efficient and smooth organisation. We didn't have to worry about a thing.
Some people said we were silly booking a holiday over the internet with a non-Australian company but they were wrong. Your company was totally professional in every aspect.
• Highlights
The boat trip around Halong Bay on the Dragon Pearl was fantastic. Our crew and especially our tour guide were excellent. The boat was just the right size with a great mix of people. We loved this!
The tour of Hoi An was very enjoyable. The tour guide was very friendly and informative. The city of Hoi An really appealed to us and we loved the hotel. The staff at the hotel (Hoi An Boutique Hotel) were very friendly and helpful.
The Mekong River cruise My husband and I totally enjoyed this day. The mixture of transport was great.
Your Telephone Calls It was a lovely touch to have you call us and check up on our well-being. It was very reassuring to know that you were at the end of the telephone line.
Pick up from the Airports. It was a bonus to have your drivers waiting at the airport to pick us and take us to the hotels. All the drivers were waiting at Arrivals with a big smile. The cars were clean and air conditioned with cold water. As less experienced travellers it was great not to have to battle taxis and a foreign language.
Once again thank you for a lovely trip and I would recommend your company without hesitation. Thank you for organising the refund very kind of you.

Yours sincerely
Maria & James Elliott
Travel 14-26 Apr

Maria & James Elliott – Visited 14/04 – 26/04/2015

Dear Anh,
We had a wonderful stay in vietnam. We can not praise Tom enough, he is an asset to your business, very helpful, friendly and polite, Jerry also is a great driver and very friendly. We also want to thank you again for all your help. We have recommended your business to our friends. Thanks again
Trudy and Jeff hirschausen.

Trudy Hirschausen – Visited 01/05 – 08/05/2015

Dear Tim,
We had a good time in Hanoi and Sapa. Thank you for all your wonderful suggestions and itinerary arrangement.
The morning and arrival refreshing washed up in hotels in Sapa and Hanoi were well organised and thoughtful. We appreciated it very much.
We will certainly we engage or recommend your services to our friends for our future trips to Vietnam .
Once again thank you very much.

Jimmy Loh group – Visited 23/06/2015
Page 5
Hi Hoang,
Our trip was amazing thank you!
We really appreciated all the effort you put into our trip. The guides were very friendly and helpful and it would not have nearly been as much fun without them.
I loved VN and will definitely return.
Cheers

Grant Belonje – Visited 12/12 – 20/12/2014

Hi Tham,
The Mekong Delta tour was good and the tour guide Chi was fantastic.
Overall the service you have provided has been outstanding, we have a great trip and all your recommendations and all the tour guides were of very high quality. Particular special mention must go to Minh, our tour guide in Sapa, who was very informative, incredibly helpful and made Sapa a real highlight of the trip for us.
We will certainly be recommending your service to our friends and family who wish to visit Vietnam.
Thank you again, you will certainly hear from us next time we visit Vietnam.
Cheers,

Mark Antony Blinco & Elisia Renae Seeber – Visited 8/12 – 22/12/2014

Hi Quyen, yes we are back home and back into our normal routine but with many great memories.
It was our pleasure to call and thank you for organizing everything for us whilst we were in your country…we had a fabulous time thanks to the way you planned the trip for us. I was amazed at how all of your drivers & tour guides were always on time and always so accommodating and I really appreciated you letting us know our flight times had not changed…it is important that you know how reassuring it is to travelers like us to know we have someone like you that we can rely on whilst overseas…it really takes the worry out of travelling…thanks.
We only have one regret from our time in Vietnam…we had planned to come & see you in person to say hello & thank you but unfortunately we ran out of time. If we do travel back to Vietnam you certainly will be the travel consultant we will ask to plan our holiday.
I will certainly complete a tripadvisor review and I hope I can chose the right words to describe how good you & Indochina Voyages have been to deal with.
Thanks again & regards

Mr. Kel & Mrs. Nicolina – Visited 28/11 – 8/12/2014

Hello Anh,
How are you? Hope everything is well for you. We had the best time in Vietnam and have been raving about it to all our friends. I'm advising anyone who asks me to book directly through you instead of going to a travel agent here. Our experience was amazing and everything was perfect. We loved every part of Vietnam but especially Danang. We are hoping to get back there again next year, and if we do I will contact you again. I wanted to thank you for organising everything so perfectly for us, we had absolutely no problem whatsoever. Everyone we dealt with was fantastic.
Regards and thanks again Lee-Anne and Brad Guise

Lee-Anne & Brad Guise – Visited 01/11 – 11/11/2014

Indochina Voyages arranged a 14 day private tour of Vietnam including Ho Chi Minh, Mekong, Hanoi, Halong Bay, Sapa, Hue and Hoi An. Everything was arranged by email with Nam and we paid a small deposit with the balance collected by Nam personally when we reached Hanoi on day 4 of the tour!. Everything about the tour was excellent, from the guides, drivers, hotels and itinerary. I could not fault anything. Nam maintained contact throughout the tour and contacted us on our last day to make sure we were happy. I highly recommend Indochina Voyages if you are considering a private tour through the Indochina area.

Anthony Liddle & Julie Margaret Liddle – Visited 23/10 – 5/11/2014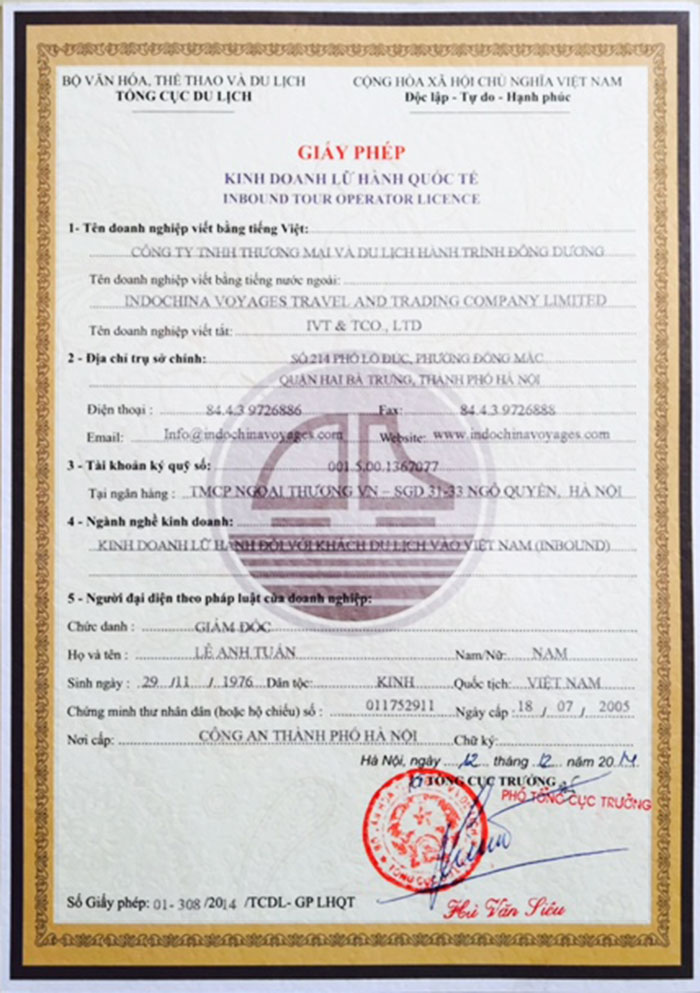 Luxury Cruises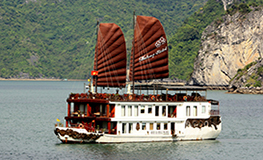 Fine cruise itinerary with luxurious stay on board, intricated decor cabin, elegant ambiance lounge with services to every detail is all luxury cruise has to offer.
View More

»
Deluxe Cruises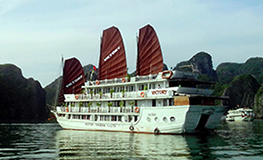 Cruise Halong Bay
in comfort and leisure, off-the-beaten track itinerary and truly hospitable crew on board, all featured in our recommended deluxe cruise options
View More

»
Superior Cruises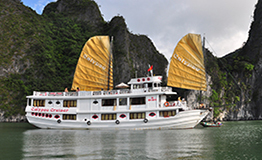 This range is oriented to budget cruiser who look for an unforgettable and safety cruise in Halong bay while engaging with nice food and friendly cruise staffs.
View More

»





© Copyright 2008 - 2017 Halong Junk Cruise - All rights reserved
A truthworthy booking site for , an internet division of Indochina Voyages